Pixel Poops: Number Two (New Years Special Preview)
IMPORTANT:
This preview is an interactive demo for Pixel Poops: Number Two, and does not represent the finished game. Some elements will be changed as the game progresses in development.
Follow future development of this game on Twitter: @lokiolr
Description:
This special New Years preview feature 5 original levels with a New Years twist.
Pixel Poops: Number Two is the NES sequel to the yyrGames classic Pixel Poops about "heroes" with super-human bowels and their supposed hatred of health-conscious joggers. It features two player simultaneous co-op and an energetic soundtrack featuring original tracks by Cosmicgem.
Gameplay:

Stop the joggers from leaving the screen by trapping them in giant poops. Smaller poops will only slow them down but the largest poop will trap them for good. Trap the required number of joggers to proceed to the next level. Miss too many and it's Game Over. Keep and eye on your poop meter. It will go down as you continue to poop. Refill it by eating at the Taco stands.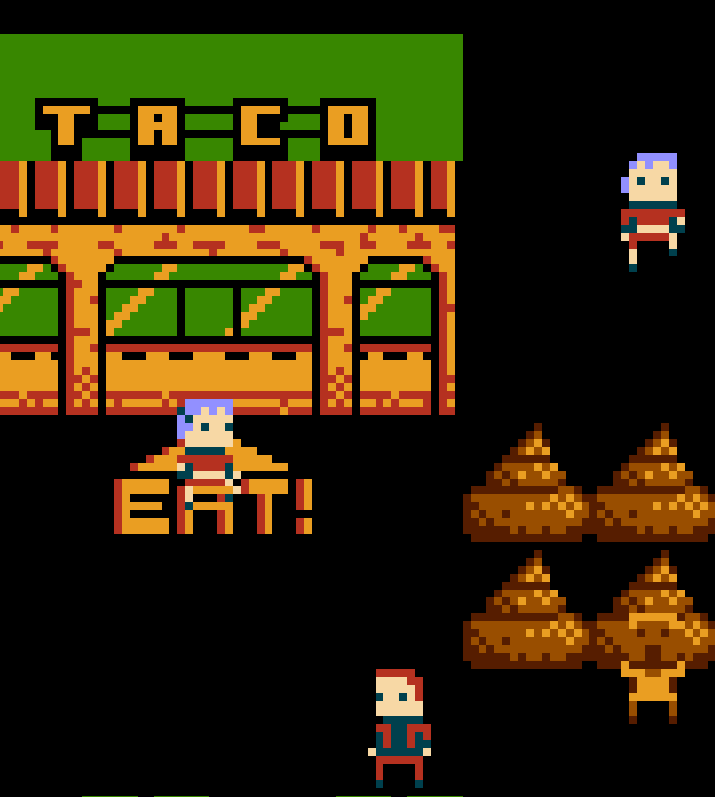 Controls:

DPAD - Movement
A button - Poop / Eat
Start - Pause
Install instructions
This NES ROM requires UNROM 512 / Mapper#30 supported hardware or emulators. Please use Mesen, FCEUX, or original NES hardware for the best experience.
Download
Download
Pixel_Poops_Number_Two_NYD2021_Demo_v1.nes
512 kB